Piedmont Azalea (Rhododendron canescens)
Piedmont Azalea is also known as Florida pinxter, Sweet Azalea, Wild Azalea, Hoary Azalea, Wooly Azalea and Mountain Azalea. The official vernacular is Sweet Mountain Azalea.

Plant Type: This is a shrub, it is a perennial which can reach a height of 4 Meters (13 feet ) .
Leaves: The leaves are alternate. Each leaf is entire.
Flowers: The flowers have 5 Regular Parts. They are pink to almost completely white. Blooms first appear in mid spring and continue into late spring. The tube part of the flower is twice as long as the lobes. The flower is often fragrant though it may vary. The flower opens before the leaves are fully grown.
Habitat: Woods.
Range: North Carolina south to Florida and west to Texas.
Color Photo
More Info
Classification
---

Ads on this page help pay for this site but if you see one that seems inappropriate here such as one that is counter to the pro environmental theme please let me know which Ad and I will block it.
Report a Bad Ad
---



The confusing array of names one can find for this species seem to contradict one another. The official vernacular and the rarely used Mountain Azalea conflict with the name Piedmont Azalea as piedmont means at the foot of the mountains and also refers to a region of the eastern U. S. east of the Appalachian Mountains from New Jersey to Alabama. The Piedmont region overlaps the range of this species, but, it by no means coincides with it. There is some confusing range information out there also. I am reliably informed by Ed Collins with the Southeastern chapter of The American Rhododendron Society that the correct name is Piedmont Azalea and that the range is no further north than North Carolina.

Similar Species: These Azaleas also bloom in spring before the leaves are fully developed.

Pinxter Flower or Pink Azalea, officially Shinners pink azalea (Rhododendron periclymenoides) formerly R. Nudiflorum is very similar. Its flowers tend to be less fragrant and the leaves are hairy along the midrib on the underside. It is found both in upland woods and in swamps or bogs.

Early, Hoary or Mountain Azalea, officially Millais Early Azalea (Rhododendron prinophyllum) formerly R. Roseum is also very similar. The flowers are fragrant and the flower tube is shorter. The leaves are covered with soft hairs.

Dwarf Azalea (Rhododendron atlanticum) Has white or sometimes purple or pink flowers. It is low growing generally less than 60cm (2'). It is found in sandy soil generally near the coast from Virginia to Georgia.

See also the orange flowered Flame Azalea, Rhododendron calendulaceum

The following species bloom later (late spring or early summer) after the leaves mature. They tend to be white but may be pink.

Swamp Azalea AKA Clammy Azalea or Swamp Honeysuckle (Rhododendron viscosum) is found in swamps and has a hairy midrib on the under side of the leaf and the flowers have sticky hairs.

Smooth Azalea (Rhododendron arborescens) is similar to Swamp Azalea. The leaves have no hairs on the underside. It tends to be found in moist woods and along streams.

---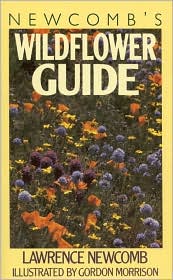 By: Newcomb, Lawrence and Illustrated by Morrison, Gordon. 1977, Little, Brown and Company, ISBN:0-316-60442-9

One of the best general guides to wildflowers of the North Eastern and North Central United States. Newcomb's key is an excellent, simple method for identifying plants. Newcomb has drawings for almost every plant mentioned that are excellent aids to identifying the species. Though only the more common plants are covered this is often the first book I pick up when trying to identify a wildflower.
---
Wildflo wers of Tennessee the Ohio Valley and the Southern Appalachians
By: Dennis Horn and Tavia Cathcart and Thomas E. Hemmerly and David Duhl. , ISBN:1551054280

This is perhaps the best of many field guides covering this region. Featuring 446 excellent color photographs (located with the text) and mentioning as similar to those illustrated are another 800 or so species for a total coverage of over 1,200 species. The start of each family section includes line drawings of some of the species showing important features. The text includes the usual description, bloom season, range, habitat and additionally includes information such as medical uses and lore and how the species was named. This is the official field guide of the Tennessee Native Plant Society.
---
---
Kingdom
Plantae
Plants
|
Division
Magnoliophyta
Angiosperms / Flowering Plants
|
Class
Magnoliopsida
Dicots / Two Seed Leaves
|
Subclass
Dilleniidae

|
Order
Ericales

|
Family
Ericaceae
Heaths
|
Subfamily


|
Tribe


|
Genus
Rhododendron

---
Welcome / Glossary / Books / Links / Feedback / Image use policy
---
www.2bnTheWild.com - Wildflowers of the Southeastern United States, Page updated on 2/19/2001 7:31:51 PM.