Red Clover (Trifolium pratense)
Plant Type: This is a non-native herbaceous plant, it is a short lived perennial or biennial which can reach 66cm in height (26inches). The stem is pubescent.
Leaves: The leaves are alternate. Each leaf is pilose and divided into three gennerally ovate leaflets each with a white 'V'.
Flowers: The flowers are irregular in shape . They are light purple, pinkish. Blooms first appear in late spring and continue into mid fall. Flowers in tight rounded heads about 2.5cm wide (1") across.
Habitat: Fields, fencerows and gardens.
Range: Throughout the U. S.
Color Photo
More Info
Classification
---

Ads on this page help pay for this site but if you see one that seems inappropriate here such as one that is counter to the pro environmental theme please let me know which Ad and I will block it.
Report a Bad Ad
---



This native of Europe, which is now very common in the United States, gets the name 'clover' from the great club that Hercules carried, known as 'clave trinodis'. It was said to have been a tree trunk with three large roots. The three leaves of the clover reminded Germanic tribes of this 'clave trinodis' and so in Danish it became 'klever' and in Anglo Saxon 'claefre' then in English 'claver' which eventually became 'clover'. The clover shape on the suit of playing cards we call 'clubs' is so called due to this relationship of clover to Hercules' club.

Cultivated as fodder and as a cover crop to be plowed under this clover has spread far and wide. Young, tinder leaves can be eaten fresh or cooked and the flowers can be brewed for tea. It is also a rich source of nectar for bees. So sweet, in fact, that it was once called 'honeysuckle' because the flower head could be sucked as a sweet. This was before refined sugar was available so you may not find it very sweet by modern standards.

Lore: Clover has been used as a charm and healing herb in Europe since pre-history. It came to America so early on that eastern Native American tribes developed traditional uses for it before Europeans could effect genocide on them. The Cherokee people used the tea for fevers, kidney problems and vaginal discharges. In Europe the occasional 'four leaf clover' was thought a powerful charm and is considered 'lucky' even to this day. While countless healing properties have been attributed to Clover, most could be explained by the tannin content. In the 1800s it was suggested, apparently by a single Newspaper article, that an extract had cured cancer.

Medical Uses: A tea from the flower has long been considered an antispasmodic and mild sedative and has been used for various lung and throat problem such as sore throats, coughs and asthma. The flowers were once smoked as an asthma treatment. Externally it is used as a salve for burns and sores. There seems to be no scientific evidence to support medical uses of Clover, but, being edible it probably can't hurt unless it is used instead of more effective treatments.

---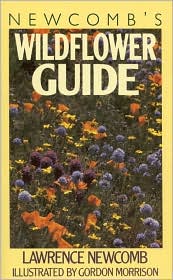 By: Newcomb, Lawrence and Illustrated by Morrison, Gordon. 1977, Little, Brown and Company, ISBN:0-316-60442-9

One of the best general guides to wildflowers of the North Eastern and North Central United States. Newcomb's key is an excellent, simple method for identifying plants. Newcomb has drawings for almost every plant mentioned that are excellent aids to identifying the species. Though only the more common plants are covered this is often the first book I pick up when trying to identify a wildflower.
---
Wildflo wers of Tennessee the Ohio Valley and the Southern Appalachians
By: Dennis Horn and Tavia Cathcart and Thomas E. Hemmerly and David Duhl. , ISBN:1551054280

This is perhaps the best of many field guides covering this region. Featuring 446 excellent color photographs (located with the text) and mentioning as similar to those illustrated are another 800 or so species for a total coverage of over 1,200 species. The start of each family section includes line drawings of some of the species showing important features. The text includes the usual description, bloom season, range, habitat and additionally includes information such as medical uses and lore and how the species was named. This is the official field guide of the Tennessee Native Plant Society.
---
---
Kingdom
Plantae
Plants
|
Division
Magnoliophyta
Angiosperms / Flowering Plants
|
Class
Magnoliopsida
Dicots / Two Seed Leaves
|
Subclass
Rosidae
Rose
|
|
Family
Fabaceae
Pea
|
Subfamily


|
Tribe


|
Genus
Trifolium

---
Welcome / Glossary / Books / Links / Feedback / Image use policy
---
www.2bnTheWild.com - Wildflowers of the Southeastern United States, Page updated on 7/23/2002 6:23:35 AM.