Dandelion, Common (Taraxacum officinale)
Dandelion, Common is also known as Blowballs.

Plant Type: This is a non-native herbaceous plant, it is a perennial which can reach 38cm in height (15inches).
Leaves: This plant has basal leaves only. Each leaf is toothed or lobed.
Flowers: The flowers have numerous parts and are up to 4.5cm wide (1.75 inches). They are yellow. Blooms first appear in mid spring and continue into early winter.
Fruit: Small seeds arranged in a sphere attached to umbrella like sails and becoming airborne when mature.
Habitat: Fields, fencerows, gardens, thin woods and especially lawns.
Color Photo
More Info
Classification
---

Ads on this page help pay for this site but if you see one that seems inappropriate here such as one that is counter to the pro environmental theme please let me know which Ad and I will block it.
Report a Bad Ad
---



Euell Gibbons in his classic book Stalking the Wild Asparagus devotes over four pages to the many tasty dishes that can be made from this common plant while homeowners and greens keepers spend millions of dollars on toxins to eliminate Dandelions from their lawns. A deep tap root and seeds that mature quickly and are widely dispersed on the wind combined with and almost year round blooming season make this a tough weed to eliminate. I heard of a botanist who when ask by a lady at a garden club meeting what to do about the Dandelions in her yard replied "Learn to love them". Good advice if you ask me.

Lore: Dandelion was intentionally introduced to this country by early settlers because of its value as a tonic. Long winters without fresh vegetables often resulted in malnutrition and the vitamins derived from consuming Dandelions restored the health of suffers in the new world as well as the old. The root could be found even in winter and the juice extracted and given as a tonic. The young leaves picked before the flower forms make a healthful and delicious green. The tinder crown found below the ground can be eaten in salads or cooked. The roots can be peeled, sliced and boiled in two waters to remove the bitterness and eaten. The root can be roasted and ground for a coffee substitute. The flowers can be used to make Dandelion Wine. In addition to food and medicine the plant also provides dye in two colors, yellow from the flowers and red from the root. If you decide to try a dish of Dandelions be sure that you don't collect any from a lawn that may have been treated with herbicides.

Medical Uses: As the scientific name implies this plant was considered an 'Official' remedy. It was, and is, an effective treatment for conditions due to a deficiency in vitamins A and C. It is thought to be a diuretic and mild laxative. Those allergic to latex should avoid contact.

---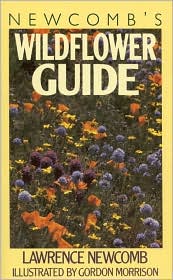 By: Newcomb, Lawrence and Illustrated by Morrison, Gordon. 1977, Little, Brown and Company, ISBN:0-316-60442-9

One of the best general guides to wildflowers of the North Eastern and North Central United States. Newcomb's key is an excellent, simple method for identifying plants. Newcomb has drawings for almost every plant mentioned that are excellent aids to identifying the species. Though only the more common plants are covered this is often the first book I pick up when trying to identify a wildflower.
---
Wildflo wers of Tennessee the Ohio Valley and the Southern Appalachians
By: Dennis Horn and Tavia Cathcart and Thomas E. Hemmerly and David Duhl. , ISBN:1551054280

This is perhaps the best of many field guides covering this region. Featuring 446 excellent color photographs (located with the text) and mentioning as similar to those illustrated are another 800 or so species for a total coverage of over 1,200 species. The start of each family section includes line drawings of some of the species showing important features. The text includes the usual description, bloom season, range, habitat and additionally includes information such as medical uses and lore and how the species was named. This is the official field guide of the Tennessee Native Plant Society.
---
---
Kingdom
Plantae
Plants
|
Division
Magnoliophyta
Angiosperms / Flowering Plants
|
Class
Magnoliopsida
Dicots / Two Seed Leaves
|
Subclass
Asteridae
Aster
|
|
Family
Asteraceae
Aster
|
Subfamily


|
Tribe


|
Genus
Taraxacum

---
Welcome / Glossary / Books / Links / Feedback / Image use policy
---
www.2bnTheWild.com - Wildflowers of the Southeastern United States, Page updated on 8/12/2000 1:27:48 PM.