Teasel (Dipsacus fullonum ssp. Sylvestris)
Teasel is also known as Wild or Common Teasel. Wild Teasel was formerly considered Dipsacus sylvestris. The official vernacular name 'Fuller's Teasel' is best reserved for the cultivated variety.

Plant Type: This is a non-native herbaceous plant, it is a biennial which can reach 183cm in height (72inches). The stem is covered with spines
Leaves: The leaf arrangement is opposite. Each leaf is toothed.
Flowers: The flowers have 4 Regular Parts. They are lavender sometimes white. Blooms first appear in early summer and continue into mid fall. The tiny flowers are on an egg shaped head.
Habitat: Fields, fencerows and waste places.
Range: Ontario to Quebec south to North Carolina and Mississippi.
Color Photo
More Info
Classification
---

Ads on this page help pay for this site but if you see one that seems inappropriate here such as one that is counter to the pro environmental theme please let me know which Ad and I will block it.
Report a Bad Ad
---



Teasel flowers open in an unusual pattern. A band of flowers opens first around the middle of the head then the blooms progress both up an down and eventually form two bands. The cultivated variety differs from this wild version in having stiffer spines on the head with more pronounced hooks on the ends.

Lore: Teasel was secretly brought to this continent in the early to mid nineteenth century from Europe were it was a guarded crop. The first crops in the U. S. were in upper New York. Later farms were also established in Oregon by a member of the same family that cultivated Teasel in N. Y.

At that time the heads were then used extensively to tease or bring up the nap on woolen fabrics, a process known as "fulling" or "brushing". A woolen blanket that has been brushed is said to be "warm". This brushing of the nap produces air pockets that provide added insulation and a softer surface that is also more resistant to spills and stains. In addition it softens the colors for a pleasing visual effect. By 1956 commercial steel carding cloth had largely replaced Teasel and it was no longer grown commercially in this country. The superior effect produced by Teasel is still valued and used on a small scale for such fine woolen fabrics as cashmere and hand woven items.

Many thanks to Carla Buchheit for providing much of the information on the use of Teasel in the fabric industry. She learned to weave in Finland and now has "Ihana Brushing Service" a fulling business in Overland Park, Kansas where she uses Teasel for brushing hand woven fabric.

Medical Uses: In some Teasels the upper leaves join around the stem forming a cup. The rainwater that collected there was once considered an eyewash and a cosmetic for the face thought to clear the skin. A common name for this Teasel is Venus' Basin. The Greeks thought the root a cleanser that could remove warts. A root tea was once used as a diuretic and to stimulate appetite. There is no scientific evidence to support any medical use.

Similar Species: Dipsacus fullonum L. ssp. Fullonum, Fuller's teasel, is the species used in fulling.

---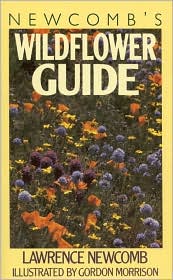 By: Newcomb, Lawrence and Illustrated by Morrison, Gordon. 1977, Little, Brown and Company, ISBN:0-316-60442-9

One of the best general guides to wildflowers of the North Eastern and North Central United States. Newcomb's key is an excellent, simple method for identifying plants. Newcomb has drawings for almost every plant mentioned that are excellent aids to identifying the species. Though only the more common plants are covered this is often the first book I pick up when trying to identify a wildflower.
---
Wildflo wers of Tennessee the Ohio Valley and the Southern Appalachians
By: Dennis Horn and Tavia Cathcart and Thomas E. Hemmerly and David Duhl. , ISBN:1551054280

This is perhaps the best of many field guides covering this region. Featuring 446 excellent color photographs (located with the text) and mentioning as similar to those illustrated are another 800 or so species for a total coverage of over 1,200 species. The start of each family section includes line drawings of some of the species showing important features. The text includes the usual description, bloom season, range, habitat and additionally includes information such as medical uses and lore and how the species was named. This is the official field guide of the Tennessee Native Plant Society.
---
---
Kingdom
Plantae
Plants
|
Division
Magnoliophyta
Angiosperms / Flowering Plants
|
Class
Magnoliopsida
Dicots / Two Seed Leaves
|
Subclass
Dilleniidae

|
Order
Diapensiales

|
Family
Dipsacaceae
Teasel
|
Subfamily


|
Tribe


|
Genus
Dipsacus

---
Welcome / Glossary / Books / Links / Feedback / Image use policy
---
www.2bnTheWild.com - Wildflowers of the Southeastern United States, Page updated on 3/8/2002 8:28:25 PM.