Crimsoneyed Rosemallow (Hibiscus moscheutos)
Crimsoneyed Rosemallow is also known as Rosemallow or Swamp Rose-Mallow, however, Rosemallow is the official vernacular for the entire genus and Swamp Rosemallow is the official vernacular for Hibiscus grandiflorus.

Plant Type: This is a herbaceous plant, it is a perennial which can reach a height of 2 Meters (7 feet ) . Somtimes considered a shrub.
Leaves: The leaves are alternate. Each leaf is toothed and the lower leaves may have three lobes.
Flowers: The flowers have 5 Regular Parts and are up to 20cm wide (8 inches). They are white with burgandy center sometimes pink. Blooms first appear in late spring and continue into early fall. (The width of the flower given is for the largest flowers with the petals fully spread which rarely occurs naturally.)
Habitat: Wet open areas, marshes, swamps and shorelines near both fresh and brackish water.
Range: Much of eastern U. S. Less common as you go north.
Color Photo
More Info
Classification
---

Ads on this page help pay for this site but if you see one that seems inappropriate here such as one that is counter to the pro environmental theme please let me know which Ad and I will block it.
Report a Bad Ad
---



Though this plant is not common it is fairly well known due to the very large and showy flowers. There is some confusion about the name as every book I know of calls this species Swamp Rosemallow yet the official name is now Crimsoneyed Rosemallow and the Swamp Rosemallow name is the vernacular for the similar species H. Grandiflorus. Mostly a tropical family there are many members of the Mallow family in North America including such cultivated plants as Hollyhock, Okra and Cotton. The flowers are fairly unique not only for their size but for the stamens being joined forming a tube around the style from which numerous stamen heads emerge.

Medical Uses: Hibiscus contains a great deal of mucilage so is soothing to the skin. There are accounts of Native Americans using parts of this plant for urinary infections, but, how it was used is unclear. Hawaiians used the root with other plants to "purify the blood" and mothers there chewed the buds or flower bases and gave it to their infants as a laxative. Adults used the leaves as a laxative and children were given seeds to chew for "general weakness of the body".(Native American Ethnobotany Database).

Similar Species: There are many closely related and similar species. Most have pink or cream flowers with yellow stamens and style instead of white as in this species.

Scarlet Rosemallow (H. Coccineus) is one of the showiest plants around having bright scarlet flowers. It is found in coastal regions of the Southeast. It's stems can reach 3 meters (10') in length and has leaves with narrow lobes
Swamp Rosemallow (H. Grandiflorus) is a shrub with white flowers that can reach 2 meters (7') in height. The leaves are three lobed and irregularly toothed. It is found on the coastal plan from Texas to Georgia and Florida.
Comfortroot (H. Aculeatus) Has cream to yellow flowers with red or purple center the petals turning pink as they wilt. It can reach about 2 meters (6') and has leaves with three to five lobes and coarse teeth. It is found in coastal pinelands and upland bogs from Texas to North Carolina.
Seashore Mallow or officially Virginia Saltmarsh Mallow (Kosteletzkya virginica) has pink flowers similar to the mallows but smaller. It can be over 1meter (3') tall and has leaves that have an elongated heart shape or lance shape and are toothed. It is hairy and is found in marsh areas (salt or fresh) from Texas to as far north as New York.

---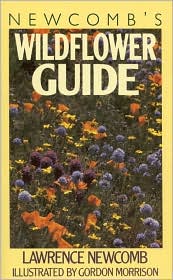 By: Newcomb, Lawrence and Illustrated by Morrison, Gordon. 1977, Little, Brown and Company, ISBN:0-316-60442-9

One of the best general guides to wildflowers of the North Eastern and North Central United States. Newcomb's key is an excellent, simple method for identifying plants. Newcomb has drawings for almost every plant mentioned that are excellent aids to identifying the species. Though only the more common plants are covered this is often the first book I pick up when trying to identify a wildflower.
---
Wildflo wers of Tennessee the Ohio Valley and the Southern Appalachians
By: Dennis Horn and Tavia Cathcart and Thomas E. Hemmerly and David Duhl. , ISBN:1551054280

This is perhaps the best of many field guides covering this region. Featuring 446 excellent color photographs (located with the text) and mentioning as similar to those illustrated are another 800 or so species for a total coverage of over 1,200 species. The start of each family section includes line drawings of some of the species showing important features. The text includes the usual description, bloom season, range, habitat and additionally includes information such as medical uses and lore and how the species was named. This is the official field guide of the Tennessee Native Plant Society.
---
---
Kingdom
Plantae
Plants
|
Division
Magnoliophyta
Angiosperms / Flowering Plants
|
Class
Liliopsida
Monocots / One Seed Leaf
|
Subclass
Dilleniidae

|
Order
Malvales

|
Family
Malvaceae
Mallow
|
Subfamily


|
Tribe


|
Genus
Hibiscus

---
Welcome / Glossary / Books / Links / Feedback / Image use policy
---
www.2bnTheWild.com - Wildflowers of the Southeastern United States, Page updated on 12/22/2001 8:14:34 AM.