Common Evening-primrose (Oenothera biennis)
Common Evening-primrose is also known as Evening Primrose.

Plant Type: This is a herbaceous plant, it is a biennial which can reach a height of 2 Meters (7 feet ) . The stem is usually branched only near the top.
Leaves: The leaves are alternate. Each leaf is toothed or shallowly lobed.
Flowers: The flowers have 4 Regular Parts and are up to 5cm wide (2 inches). They are yellow. Blooms first appear in early summer and continue into early fall. Flowers open in the evening.
Habitat: Fields, borders and open woods.
Range: Most of U. S.
Color Photo
More Info
Classification
---

Ads on this page help pay for this site but if you see one that seems inappropriate here such as one that is counter to the pro environmental theme please let me know which Ad and I will block it.
Report a Bad Ad
---



The first year there is only a rosette of basal leaves and a stalk with alternate leaves. The second year the plant flowers. The flowers open suddenly in the evening and, depending on the weather, usually fade in early to mid morning. The flowers attract sphinx moths. The dry stalks and seed pods persist and are sometimes use in dry arrangements.

Lore: Native Americans rubbed the root on athletes to give them strength.(Foster & Duke)

Medical Uses: The plant contains an astringent mucilage that modern herbalist use in cough remedies. Externally the plant has been use to treat sores and various skin conditions. Published studies indicate that the oil might be useful in treating atopic eczema or eczema caused by allergy. Another investigation suggests that the oil might help people suffering from atopic conditions such as asthma and might alleviate migraines. Still another study shows that the plant may prevent blood clots.(Dobelis) Researchers have found that plant extracts and improve abnormalities in fatty acids in prostaglandin production.(Foster & Duke)

Similar Species: Largeflower Evening-primrose (Oenothera grandiflora has flowers to about 10cm (4") wide. It's native range is limited to the coastal plane of Alabama but has escaped from cultivation elsewhere.
Cutleaf Evening-primrose, Oenothera laciniata has deep cuts at the base of the leaves and the plant usually branches near the base. and only reaches about 70cm (28") in height.
Seabeach Evening-primrose (Oenothera humifusa) is similar to above but the upper stem and leaves are hairy and it is found in coastal areas from Florida and to New Jersey.
Stemless Evening-Primrose, Oenothera triloba has almost no upright stem.
Other Oenotheras know as Sundrops bloom during the day.

---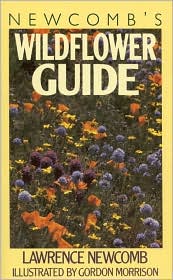 By: Newcomb, Lawrence and Illustrated by Morrison, Gordon. 1977, Little, Brown and Company, ISBN:0-316-60442-9

One of the best general guides to wildflowers of the North Eastern and North Central United States. Newcomb's key is an excellent, simple method for identifying plants. Newcomb has drawings for almost every plant mentioned that are excellent aids to identifying the species. Though only the more common plants are covered this is often the first book I pick up when trying to identify a wildflower.
---
Wildflo wers of Tennessee the Ohio Valley and the Southern Appalachians
By: Dennis Horn and Tavia Cathcart and Thomas E. Hemmerly and David Duhl. , ISBN:1551054280

This is perhaps the best of many field guides covering this region. Featuring 446 excellent color photographs (located with the text) and mentioning as similar to those illustrated are another 800 or so species for a total coverage of over 1,200 species. The start of each family section includes line drawings of some of the species showing important features. The text includes the usual description, bloom season, range, habitat and additionally includes information such as medical uses and lore and how the species was named. This is the official field guide of the Tennessee Native Plant Society.
---
---
Kingdom
Plantae
Plants
|
Division
Magnoliophyta
Angiosperms / Flowering Plants
|
Class
Magnoliopsida
Dicots / Two Seed Leaves
|
Subclass
Rosidae
Rose
|
|
Family
Onagraceae
Evening- Primrose
|
Subfamily


|
Tribe


|
Genus
Oenothera

---
Welcome / Glossary / Books / Links / Feedback / Image use policy
---
www.2bnTheWild.com - Wildflowers of the Southeastern United States, Page updated on 9/1/2002 12:05:25 PM.