Canadian Horseweed (Conyza canadensis)
Canadian Horseweed is also known as Horseweed, Canadian Fleabane and Fleabane. Formerly considered Erigeron canadensis and Leptilon canadense..

Plant Type: This is a herbaceous plant, it is a annual which can reach a height of 2.1 Meters (7 feet ) . A tall, narrow plant usually with an unbranched stem.
Leaves: The leaves are alternate. The lower leaves are toothed.
Flowers: The flower parts are not discernable with the naked eye . They are white or greenish. Blooms first appear in early summer and continue into late fall. The inconspicuous flowers are in a large cluster at the top of of the plant.
Habitat: Fields, fencerows and waste places.
Range: Almost all of North America
Color Photo
More Info
Classification
---

Ads on this page help pay for this site but if you see one that seems inappropriate here such as one that is counter to the pro environmental theme please let me know which Ad and I will block it.
Report a Bad Ad
---



Horseweed is as common a 'weed' as you will find. It is often the dominate plant in overgrown fields or waste places. Once it grew only in North America and was introduced to settlers by the Natives for it's medical uses. First described in England in 1640 it was growing wild in France by 1653.

Most books will list this species as Erigeron canadensis, putting it in the same family as such plants as Eastern Daisy Fleabane, Erigeron annuus. The current official classification is as listed here which is how many botanists have classified it for decades. The name Horseweed may refer to it's size as it can be a tall plant. The term erigeron means 'early aged' and refers to the old or worn out appearance the plant often has by the time it flowers.

Lore: The name Fleabane suggest the plants value as an insecticide or repellent and there may be scientific data to support this.(Dobelis)

Medical Uses: The stem is used even today in herbal medicine. Tannin is the main component making the plant a diuretic and heamostatic. A tea has been used to treat diarrhea, kidney problems and respiratory infections. An essential oil distilled from fresh plants (oil of erigeron or oil of fleabane) has been used to expel intestinal parasites.(Volák & Stodola). Various other medical uses are listed by various text but are not substantiated by any science and some references consider this plant together with the Erigerons. Warning: May cause contact dermatitis in susceptible persons.

---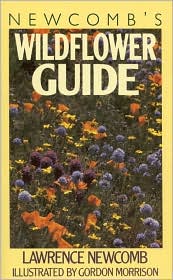 By: Newcomb, Lawrence and Illustrated by Morrison, Gordon. 1977, Little, Brown and Company, ISBN:0-316-60442-9

One of the best general guides to wildflowers of the North Eastern and North Central United States. Newcomb's key is an excellent, simple method for identifying plants. Newcomb has drawings for almost every plant mentioned that are excellent aids to identifying the species. Though only the more common plants are covered this is often the first book I pick up when trying to identify a wildflower.
---
Wildflo wers of Tennessee the Ohio Valley and the Southern Appalachians
By: Dennis Horn and Tavia Cathcart and Thomas E. Hemmerly and David Duhl. , ISBN:1551054280

This is perhaps the best of many field guides covering this region. Featuring 446 excellent color photographs (located with the text) and mentioning as similar to those illustrated are another 800 or so species for a total coverage of over 1,200 species. The start of each family section includes line drawings of some of the species showing important features. The text includes the usual description, bloom season, range, habitat and additionally includes information such as medical uses and lore and how the species was named. This is the official field guide of the Tennessee Native Plant Society.
---
---
Kingdom
Plantae
Plants
|
Division
Magnoliophyta
Angiosperms / Flowering Plants
|
Class
Magnoliopsida
Dicots / Two Seed Leaves
|
Subclass
Asteridae
Aster
|
|
Family
Asteraceae
Aster
|
Subfamily


|
Tribe


|
Genus
Conyza

---
Welcome / Glossary / Books / Links / Feedback / Image use policy
---
www.2bnTheWild.com - Wildflowers of the Southeastern United States, Page updated on 12/22/2001 8:23:27 AM.