Downy Rattlesnake Plantain (Goodyera pubescens)
Plant Type: This is a herbaceous plant, it is a perennial.
Leaves: This plant has basal leaves only. Leaves can reach 5cm in length (2inches). Each leaf is entire, wooly and distinctively patterned with white veins.
Flowers: The flowers are irregular in shape . They are whitish. Blooms first appear in early summer and continue into late summer. The small flowers are in a dense terminal spike.
Habitat: Woods.
Range: Most of eastern U. S.
Color Photo
More Info
Classification
---

Ads on this page help pay for this site but if you see one that seems inappropriate here such as one that is counter to the pro environmental theme please let me know which Ad and I will block it.
Report a Bad Ad
---



Rattlesnake Plantain is easy to identify by its leaves. Though it is occasionally found in profusion in small areas it is generally somewhat rare and should not be collected.

Lore: The genus name recognizes the English botanist John Goodyer. The common name gives a clue to one of the major uses of this plant by Native Americans and early medical practitioners. Many plants are considered to be cures for snakebite because most snakebites, by snakes found in North America anyway, are not fatal so any treatment is likely to result in the survival of the victim. This plant must have been particularly esteemed for its efficacy. It has been reported that in the late eighteenth century Indians would "for a trifling..." allow themselves to be bitten counting on this plant to prevent any harmful symptoms.(Erichsen- Brown)The doctrine of signatures may be responsible for the notion that the plant is useful for snakebite as the pattern of the leaves was thought to resemble snakeskin. There is also the notion that if you step on this plant you will lose your way and become lost in the woods. Apparently Germans in Pennsylvania believed this and knew the plant locally as err-kraut.(Erichsen- Brown)

Medical Uses: In addition to its dubious use for snakebite the Cherokees used a leaf tea held in the mouth for toothache and drank for the tea for colds and kidney problems. With whiskey it was thought to improve appetite. The leaf juice was used for the eyes and it was part of a mixture used as a tonic.(Hamel/Chiltoskey) The wilted leaves were used to treat burns and other tribes and physicians used the leaves for various sores and swollen lymph nodes for which it was taken internally and applied externally.(Foster & Duke)

There is no good evidence that the plant has any medical value and in any event it is too rare to collect.

Similar Species: Lesser Rattlesnake Plantain, also know as Creeping and Dwarf Rattlesnake Plantain, (Goodyera repens has flowers on only one side of the spike and leaves only 2.5cm (1") long. It is found in mostly in deep mountain woods.

---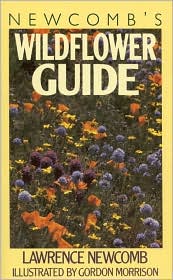 By: Newcomb, Lawrence and Illustrated by Morrison, Gordon. 1977, Little, Brown and Company, ISBN:0-316-60442-9

One of the best general guides to wildflowers of the North Eastern and North Central United States. Newcomb's key is an excellent, simple method for identifying plants. Newcomb has drawings for almost every plant mentioned that are excellent aids to identifying the species. Though only the more common plants are covered this is often the first book I pick up when trying to identify a wildflower.
---
Wildflo wers of Tennessee the Ohio Valley and the Southern Appalachians
By: Dennis Horn and Tavia Cathcart and Thomas E. Hemmerly and David Duhl. , ISBN:1551054280

This is perhaps the best of many field guides covering this region. Featuring 446 excellent color photographs (located with the text) and mentioning as similar to those illustrated are another 800 or so species for a total coverage of over 1,200 species. The start of each family section includes line drawings of some of the species showing important features. The text includes the usual description, bloom season, range, habitat and additionally includes information such as medical uses and lore and how the species was named. This is the official field guide of the Tennessee Native Plant Society.
---
---
Kingdom
Plantae
Plants
|
Division
Magnoliophyta
Angiosperms / Flowering Plants
|
Class
Liliopsida
Monocots / One Seed Leaf
|
Subclass
Liliidae
Lily
|
Order
Orchidales
Orchid
|
Family
Orchidaceae
Orchid
|
Subfamily


|
Tribe


|
Genus
Goodyera

---
Welcome / Glossary / Books / Links / Feedback / Image use policy
---
www.2bnTheWild.com - Wildflowers of the Southeastern United States, Page updated on 12/22/2001 8:15:50 AM.