Hoary Mountain Mint (Pycnanthemum incanum)
Hoary Mountain Mint is also known as Mountain Mint, White Horse-mint and, misleadingly, Wild Basil..

Plant Type: This is a herbaceous plant, it is a perennial which can reach a height of 2 Meters (7 feet ) . Normally only about half that height with numerous branches. Most of the plant is covered densely with short white hairs.
Leaves: The leaf arrangement is opposite. The mostly ovate leaves are toothed and have short petioles The upper leaves are usually whitish.
Flowers: The flowers are irregular in shape and are up to 0.75cm long (0.3 inches). They are white sometimes lilac with purple spots. Blooms first appear in mid summer and continue into early fall. The flowers are in terminal clusters and in clusters at the leaf axis. The teeth of the calyx are unequal in length with none being more than half as long as the calyx and they have long hairs at the tips.
Habitat: Dry woods.
Range: Known from almost all states east of the Missisippi River. Less common in the north.
Color Photo
More Info
Classification
---

Ads on this page help pay for this site but if you see one that seems inappropriate here such as one that is counter to the pro environmental theme please let me know which Ad and I will block it.
Report a Bad Ad
---



Pycnanthemum means "densely flowered". Each branch is crowned with a cluster of flowers and many of the leaf axis also have clusters. Several Mountain-mints (Pycnanthemums) are found in our area and most are not limited to mountainous areas.

Medical Uses: Like many members of the mint family this plant has been used to treat colds, fevers, digestive disorders especially gas. (Foster & Duke) Its use as a carminative is well established. A leaf tea is usually used but a tincture would also provide the active components.(Grieve) The Cherokee used a leaf poultice for headache drank leaf tea for heart trouble, to prevent diarrhea when they ate green corn and used it as a wash for an inflamed penis. (Hamel/Chiltoskey)

Similar Species: Many other species in this genus that might be found in some part of our area, are more or less similar to this species. Very like it is Southern Mountainmint (Pycnanthemum pycnanthemoides) which differs in having flowers of a richer color and longer calyx teeth and a more limited range. (Duncan & Duncan). Whiteleaf Mountainmint (Pycnanthemum albescens) lacks the long hairs on the calyx and is found only from central Florida north to east Tennessee and west to east Texas. Stone Mountainmint (Pycnanthemum curvipes) is found only in the southern Appalachians and has leaves up to 7.6cm (3") long with fine hairs on both surfaces and a petiole about .8cm (.33") long. (Rickett) Florida Mountainmint (Pycnanthemum floridanum) has even shorter petioles, only about .6cm (.25") long and the middle leaves are smooth on both sides. It is found in east central Florida.

Most of the other species tend to have leaves more lanceolate and less ovate.

---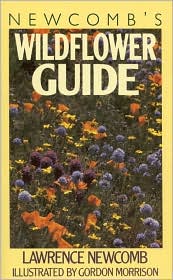 By: Newcomb, Lawrence and Illustrated by Morrison, Gordon. 1977, Little, Brown and Company, ISBN:0-316-60442-9

One of the best general guides to wildflowers of the North Eastern and North Central United States. Newcomb's key is an excellent, simple method for identifying plants. Newcomb has drawings for almost every plant mentioned that are excellent aids to identifying the species. Though only the more common plants are covered this is often the first book I pick up when trying to identify a wildflower.
---
Wildflo wers of Tennessee the Ohio Valley and the Southern Appalachians
By: Dennis Horn and Tavia Cathcart and Thomas E. Hemmerly and David Duhl. , ISBN:1551054280

This is perhaps the best of many field guides covering this region. Featuring 446 excellent color photographs (located with the text) and mentioning as similar to those illustrated are another 800 or so species for a total coverage of over 1,200 species. The start of each family section includes line drawings of some of the species showing important features. The text includes the usual description, bloom season, range, habitat and additionally includes information such as medical uses and lore and how the species was named. This is the official field guide of the Tennessee Native Plant Society.
---
---
Kingdom
Plantae
Plants
|
Division
Magnoliophyta
Angiosperms / Flowering Plants
|
Class
Magnoliopsida
Dicots / Two Seed Leaves
|
Subclass
Asteridae
Aster
|
|
Family
Lamiaceae
Mint
|
Subfamily


|
Tribe


|
Genus
Pycnanthemum
Mountainmint
---
Welcome / Glossary / Books / Links / Feedback / Image use policy
---
www.2bnTheWild.com - Wildflowers of the Southeastern United States, Page updated on 12/22/2001 8:13:41 AM.