American Ginseng (Panax quinquefolius)
American Ginseng is also known as Genseng and Sang.

Plant Type: This is a herbaceous plant, it is a perennial which can reach 50cm in height (20inches).
Leaves: The leaves are whorled. Leaves can reach 25cm in length (10inches). There are usually three leaves. Each leaf is palmately divided into five toothed leaflets.
Flowers: The flowers have 5 Regular Parts and are up to 0.25cm wide (0.1 inches). They are greenish white. Blooms first appear in mid spring and continue into mid summer. The flowers are in a single umbel from the axis of the leaves
Fruit: A cluster of bright red berries.
Habitat: Rich woods.
Range: Most of North America east of the Rocky Mountains except the extreme south.
Color Photo
More Info
Classification
---

Ads on this page help pay for this site but if you see one that seems inappropriate here such as one that is counter to the pro environmental theme please let me know which Ad and I will block it.
Report a Bad Ad
---

Daniel Reed


Although some Native American tribes used the root of the plant we now call Ginseng, they considered it mostly as a charm to attract game or a husband and, at least in some tribes, the practice was to harvest it only when the seeds were ripe so they could be planted to insure a harvest years in the future. Then in the eighteenth century a Jesuit missionary noticed that the plant was almost identical to "jen-shen" a plant highly valued in China for its root which was, and is yet, considered a panacea not to mention an aphrodisiac.(Dobelis) The trade that developed and is ongoing has reduced this once common plant to a rather rare species. So it is that this American plant joins the ranks of the tiger the rhinoceros and the black bear in being driven ever closer to extinction by those that profit from the baseless beliefs of a huge population. Countless studies indicate that any medical effect that this plant may have is that of a tonic, very subtle, effective only over a long term. Much of the Ginseng produced by this country is now cultivated. Cultivation is difficult and takes several years to produce a crop of roots of sufficient size. If you spend a lot of time in remote woods of eastern North America in the late summer or early fall you will likely run into "Sang hunters". Often armed with very small flat spades they venture to rich, cool, hollows and coves where a few remaining patches of Ginseng can be found and can earn several hundred dollars in a day or two of gathering, some time spent drying, and another day taking the dried roots to a buyer who sells it to an exporter and eventually most American Ginseng ends up in China. The Ginseng products available in this country come almost exclusively from Chinese Ginseng which the Chinese consider inferior to the American.

The Chinese name jen-shen and at least one Native American name garantoquen mean "man like". This refers to the root which with a little imagination looks like a man. The scientific name quinquefolius translates into "five leaved cure all".

Ginseng is difficult to spot when in flower as it is not tall, has a small flower and looks rather indistinct among the lower story plants of the forest. In the fall its bright red berries give it away easily. The cluster of bright shinny red fruits look similar to that of Jack in the Pulpit and will catch your eye from a distance. Occurring in small patches in ideal habitat it is occasionally found alone and unexpectedly in shaded woods.

Medical Uses: Ginseng has a reputation as a magical cure all that is hard to dispel even with numerous test that demonstrate little medical value. Herbalist recommend it, if taken regularly, to reduce stress, help the body resist infections and as a stimulant. The dried root can be chewed or taken as tea. Any number of extracts of Chinese Ginseng are found on the market.

Similar Species: See Dwarf Ginseng, Panax trifolius.

---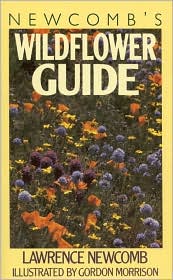 By: Newcomb, Lawrence and Illustrated by Morrison, Gordon. 1977, Little, Brown and Company, ISBN:0-316-60442-9

One of the best general guides to wildflowers of the North Eastern and North Central United States. Newcomb's key is an excellent, simple method for identifying plants. Newcomb has drawings for almost every plant mentioned that are excellent aids to identifying the species. Though only the more common plants are covered this is often the first book I pick up when trying to identify a wildflower.
---
Wildflo wers of Tennessee the Ohio Valley and the Southern Appalachians
By: Dennis Horn and Tavia Cathcart and Thomas E. Hemmerly and David Duhl. , ISBN:1551054280

This is perhaps the best of many field guides covering this region. Featuring 446 excellent color photographs (located with the text) and mentioning as similar to those illustrated are another 800 or so species for a total coverage of over 1,200 species. The start of each family section includes line drawings of some of the species showing important features. The text includes the usual description, bloom season, range, habitat and additionally includes information such as medical uses and lore and how the species was named. This is the official field guide of the Tennessee Native Plant Society.
---
---
Kingdom
Plantae
Plants
|
Division
Magnoliophyta
Angiosperms / Flowering Plants
|
Class
Magnoliopsida
Dicots / Two Seed Leaves
|
Subclass
Rosidae

|
Order
Apiales

|
Family
Araliaceae
Genseng
|
Subfamily


|
Tribe


|
Genus
Panax

---
Welcome / Glossary / Books / Links / Feedback / Image use policy
---
www.2bnTheWild.com - Wildflowers of the Southeastern United States, Page updated on 6/24/2002 7:49:46 AM.