Golden Ragwort (Packera aurea)
Golden Ragwort is also known as Golden Groundsel and Squaw Weed. Formerly considered Senecio aureus (this is the name found in all the literature).

Plant Type: This is a herbaceous plant, it is a perennial which can reach 80cm in height (31inches). The plant often spreads via creeping branches or stolons. Young plant may be slightly hairy but becomes glabrous.
Leaves: The leaves are alternate. The basal leaves are heart shaped with blunt teeth and a long petioles. The stem leaves are smaller, clasping the stem or at least without petioles and deeply, pinnately lobed. The leaves are variable.
Flowers: The flowers have numerous parts and are up to 2.5cm wide (1 inches). They are golden yellow. Blooms first appear in mid spring and continue into late spring. The flowers are in a flattened terminal cluster. The phyllarys have red or purple tips
Habitat: Swamps, wet meadows and moist woods.
Range: From Arkansas, northern Georgia and South Carolina north.
Color Photo
More Info
Classification
---

Ads on this page help pay for this site but if you see one that seems inappropriate here such as one that is counter to the pro environmental theme please let me know which Ad and I will block it.
Report a Bad Ad
---

Daniel Reed


Long familiar as Senecio aureus, this species is now considered Packera aurea (L.) A.& D. Löve.

Lore: The Cherokees used Golden Ragwort tea for heart trouble and to prevent pregnancy.(Hamel/Chiltoskey)Other Native Americans and early settlers used it to regulate menses, to aid childbirth, treat urinary problems and to treat lung diseases such as tuberculosis.(Foster & Duke) (Dobelis)

Medical Uses: Herbalist may still recommend a root tea from this plant for some conditions such as urinary problems. It has been studied and found to have little if any value for urinary problems. It is known to increase blood pressure and stimulate uterine contractions. In any case, this plant should not be consumed due to the toxic alkaloid pyrrolizidine it contains.
Warning: This plant may contain highly toxic alkaloids associated with liver damage and cancer.(Foster & Duke) (Dobelis)

Similar Species: Roundleaf Ragwort (Packera obovata / Senecio obvatus) has obovate basal leaves. It is found throughout our area on rocky slopes. Woolly Ragwort (Packera tomentosa / Senecio tomentosus) has brighter yellow flowers and narrow basal leaves that are very downy when young. It is found in open woods and fields of the costal plain. Prairie Groundsel (Packera plattensis / Senecio plattensis) is a much smaller plant reaching less than 40cm (16") and retains a covering of down especially on the underside of the basal leaves. It is found on in dry prairies and slopes. Small's Ragwort AKA Southern Ragwort (Packera anonyma / Senecio anonymus / Senecio smallii) has narrow basal leaves tapering at both ends and often pinnately lobed toward the stem and a stem wooly at the base. The flowers are about 1.3cm (0.5") wide. It is common east of the Mississippi in fields, borders and open woods. Piedmont Ragwort (Packera millefolia / Senecio millefolium) has twice pinnately devided leaves resulting in very narrow leaf parts thus the name which translates to 'thousand-leaf'. It is found on cliffs of the southern Blue Ridge.

---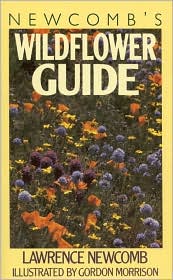 By: Newcomb, Lawrence and Illustrated by Morrison, Gordon. 1977, Little, Brown and Company, ISBN:0-316-60442-9

One of the best general guides to wildflowers of the North Eastern and North Central United States. Newcomb's key is an excellent, simple method for identifying plants. Newcomb has drawings for almost every plant mentioned that are excellent aids to identifying the species. Though only the more common plants are covered this is often the first book I pick up when trying to identify a wildflower.
---
Wildflo wers of Tennessee the Ohio Valley and the Southern Appalachians
By: Dennis Horn and Tavia Cathcart and Thomas E. Hemmerly and David Duhl. , ISBN:1551054280

This is perhaps the best of many field guides covering this region. Featuring 446 excellent color photographs (located with the text) and mentioning as similar to those illustrated are another 800 or so species for a total coverage of over 1,200 species. The start of each family section includes line drawings of some of the species showing important features. The text includes the usual description, bloom season, range, habitat and additionally includes information such as medical uses and lore and how the species was named. This is the official field guide of the Tennessee Native Plant Society.
---
---
Kingdom
Plantae
Plants
|
Division
Magnoliophyta
Angiosperms / Flowering Plants
|
Class
Magnoliopsida
Dicots / Two Seed Leaves
|
Subclass
Asteridae
Aster
|
|
Family
Asteraceae
Aster
|
Subfamily


|
Tribe


|
Genus
Packera
Ragwort
---
Welcome / Glossary / Books / Links / Feedback / Image use policy
---
www.2bnTheWild.com - Wildflowers of the Southeastern United States, Page updated on 12/22/2001 8:21:11 AM.