Dutchman's Breeches (Dicentra cucullaria)
Plant Type: This is a herbaceous plant, it is a perennial. From a short root with many small bulblets.
Leaves: This plant has basal leaves only. The leaves are finely divided into narrow segments.
Flowers: The flowers are irregular in shape and are up to 1.75cm long (0.7 inches). They are white with traces of yellow. Blooms first appear in early spring and continue into mid spring. The flowers actually have 4 petals, the inner ones are very small. The pair of outer petals form a swollen 'V' making the hanging flower look like a pair of breeches hung upside-down. The flowers are on an arching scape.
Habitat: Rich moist woods, shaded ledges and banks in scattered location. Locally abundant especially the mountains.
Range: North Dakota to Quebec and south as far as northern Georgia. Very scattered locations in the southern part of range. Also found in a few northwestern states.
Color Photo
More Info
Classification
---

Ads on this page help pay for this site but if you see one that seems inappropriate here such as one that is counter to the pro environmental theme please let me know which Ad and I will block it.
Report a Bad Ad
---



This delicate spring flower is well know to those who visit the southern mountains in the early spring. It is sometimes found in abundance on a northern slope or shaded blank that has remained undisturbed for a very long time. It is very rare in the south except for the mountains and in bloom for a very short time.

Lore: Among some northern tribes it may have been used as a love charm or for seduction. Imagine a young man chewing the root and circling the intended female breathing out the fragrance in the belief that once she smells it she will follow him even against her will.(Erichsen-Brown)

Medical Uses: Native Americans and early white practitioners considered this plant useful for several conditions including syphilis, skin conditions and as a blood purifier. There are several alkaloids that may have effects on the brain and heart. Warning: May be toxic and may cause contact dermatitis in some people.

Similar Species: Squirrel Corn (Dicentra canadensis) has more rounded flowers. Turkey Corn or Wild Bleeding heart (Dicentra eximia) has pink rounded flowers.

---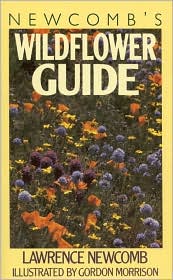 By: Newcomb, Lawrence and Illustrated by Morrison, Gordon. 1977, Little, Brown and Company, ISBN:0-316-60442-9

One of the best general guides to wildflowers of the North Eastern and North Central United States. Newcomb's key is an excellent, simple method for identifying plants. Newcomb has drawings for almost every plant mentioned that are excellent aids to identifying the species. Though only the more common plants are covered this is often the first book I pick up when trying to identify a wildflower.
---
Wildflo wers of Tennessee the Ohio Valley and the Southern Appalachians
By: Dennis Horn and Tavia Cathcart and Thomas E. Hemmerly and David Duhl. , ISBN:1551054280

This is perhaps the best of many field guides covering this region. Featuring 446 excellent color photographs (located with the text) and mentioning as similar to those illustrated are another 800 or so species for a total coverage of over 1,200 species. The start of each family section includes line drawings of some of the species showing important features. The text includes the usual description, bloom season, range, habitat and additionally includes information such as medical uses and lore and how the species was named. This is the official field guide of the Tennessee Native Plant Society.
---
---
Kingdom
Plantae
Plants
|
Division
Magnoliophyta
Angiosperms / Flowering Plants
|
Class
Magnoliopsida
Dicots / Two Seed Leaves
|
Subclass
Magnoliidae
Magnolia
|
|
Family
Fumariaceae
Fumitory AKA: Bleeding- Heart
|
Subfamily


|
Tribe


|
Genus
Dicentra

---
Welcome / Glossary / Books / Links / Feedback / Image use policy
---
www.2bnTheWild.com - Wildflowers of the Southeastern United States, Page updated on 12/22/2001 8:15:15 AM.