Wild Yam (Dioscorea villosa)
Wild Yam is also known as Colic Root.

Plant Type: This is a vine, it is a perennial which can reach a height of 3 Meters (10 feet ). Perhaps even longer stems occur. The stem is slender, rarely branched and tends to twine right to left or counterclockwise but this may not be apparent.
Leaves: The leaves are alternate. The lowest leaves may appear whorled. Each leaf is entire, cordate, with tapering tip and seven to eleven parallel veins. They may be hairy (villos) on the underside.
Flowers: The flowers have 6 Regular Parts and are up to 0.5cm wide (0.2 inches). They are green. Blooms first appear in mid spring and continue into early summer. The flowers are in loose straggling clusters.
Habitat: Woods and thickets and borders.
Range: Most of eastern U. S.
Color Photo
More Info
Classification
---

Ads on this page help pay for this site but if you see one that seems inappropriate here such as one that is counter to the pro environmental theme please let me know which Ad and I will block it.
Report a Bad Ad
---



This plant has only slender tubers which, while not toxic, do not taste at all good. Nothing at all like the Yam or Sweet Potato grown in southern vegetable gardens and appearing on dinner tables. More distinguished by its leaves than its flowers it is common in many areas.

Medical Uses: Native Americans and early herbalist had many uses for this plant including the treatment of many female and childbirth related problems. It was also used to treat various gastrointestinal problems, muscle spasms, various painful conditions such as arthritis and rheumatism. There seems to be no scientific evidence of its effectiveness for these conditions. Nonetheless, plants of this genus are valuable to modern medicine. Many of our modern steroids are manufactured from diosgenin extracted from them. Drugs like birth control pills are affordable due to this genus. The steroids in the plant could explain its possible effectiveness in some herbal remedies.

Similar Species: Fourleaf Yam (Dioscorea quaternata) has many or all leaves in whorls, is much branched and has larger flowers.
Florida Yam (Dioscorea floridana) may have several flower clusters at each leaf axis and the male flowers are in panicles. It is found in scattered locations on the coastal plain from South Carolina to Florida.

---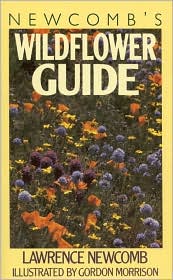 By: Newcomb, Lawrence and Illustrated by Morrison, Gordon. 1977, Little, Brown and Company, ISBN:0-316-60442-9

One of the best general guides to wildflowers of the North Eastern and North Central United States. Newcomb's key is an excellent, simple method for identifying plants. Newcomb has drawings for almost every plant mentioned that are excellent aids to identifying the species. Though only the more common plants are covered this is often the first book I pick up when trying to identify a wildflower.
---
Wildflo wers of Tennessee the Ohio Valley and the Southern Appalachians
By: Dennis Horn and Tavia Cathcart and Thomas E. Hemmerly and David Duhl. , ISBN:1551054280

This is perhaps the best of many field guides covering this region. Featuring 446 excellent color photographs (located with the text) and mentioning as similar to those illustrated are another 800 or so species for a total coverage of over 1,200 species. The start of each family section includes line drawings of some of the species showing important features. The text includes the usual description, bloom season, range, habitat and additionally includes information such as medical uses and lore and how the species was named. This is the official field guide of the Tennessee Native Plant Society.
---
---
Kingdom
Plantae
Plants
|
Division
Magnoliophyta
Angiosperms / Flowering Plants
|
Class
Liliopsida
Monocots / One Seed Leaf
|
Subclass
Liliidae

|
Order
Liliales

|
Family
Dioscoreaceae
Yam
|
Subfamily


|
Tribe


|
Genus
Dioscorea
Yam
---
Welcome / Glossary / Books / Links / Feedback / Image use policy
---
www.2bnTheWild.com - Wildflowers of the Southeastern United States, Page updated on 7/3/2001 8:54:27 PM.