Coltsfoot (Tussilago farfara)
Plant Type: This is a non-native herbaceous plant, it is a perennial. It spreads from a branched rhizome.
Leaves: The basal leaves appear after the flowers and are roughly heart shaped, irregularly toothed to lobed and from 5-20cm (2-8") long
Flowers: The flowers have numerous parts and are up to 2.5cm wide (1 inches). They are yellow. Blooms first appear in early spring and continue into mid spring.
Habitat: Damp soils and disturbed areas.
Range: From Tennessee and North Carolina north into Canada.
Color Photo
More Info
Classification
---

Ads on this page help pay for this site but if you see one that seems inappropriate here such as one that is counter to the pro environmental theme please let me know which Ad and I will block it.
Report a Bad Ad
---



This native of Europe or Eurasia is well establish on this continent. The name 'Tussilago' comes from the Latin 'tussis' which means cough. This reflects a common use of the plant which was probably brought to this country by early settelers for medicinal reasons. The Coltsfoot name refers to the shape of the leaves.

Medical Uses: The plant has been used since pre history to relieve coughs and other respiratory problems. It is made into herbal teas (un-opened flowers and leaves) and is found in commercial cough preparations. It is an ingredient in concoctions used to treat diarrhea. The leaves are sometimes smoked for relief of congestion. The crushed leaves or a leaf decoction is used externally where it may be applied to sores, injuries, rashes and painful joints. The large mucilage content accounts for most of the medical benefit derived from the plant. It also contains tannins, salts, sterols* and inulin** several other possibly active components.

*Studies from the 1950s and recent research shows plant sterols lower cholesterol.

**Inulin contains dietary fiber, increases the body's absorption of calcium and may have beneficial effects on bacteria in the digestive track including providing some protection from bacterial infections. It is also suspected to cause food allergies in some people. It is an ingredient in many foods where it may be used as a fat or sugar substitute. It is filling and tastes sweet but is not absorbed into the blood.



---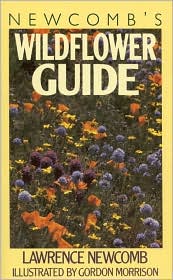 By: Newcomb, Lawrence and Illustrated by Morrison, Gordon. 1977, Little, Brown and Company, ISBN:0-316-60442-9

One of the best general guides to wildflowers of the North Eastern and North Central United States. Newcomb's key is an excellent, simple method for identifying plants. Newcomb has drawings for almost every plant mentioned that are excellent aids to identifying the species. Though only the more common plants are covered this is often the first book I pick up when trying to identify a wildflower.
---
Wildflo wers of Tennessee the Ohio Valley and the Southern Appalachians
By: Dennis Horn and Tavia Cathcart and Thomas E. Hemmerly and David Duhl. , ISBN:1551054280

This is perhaps the best of many field guides covering this region. Featuring 446 excellent color photographs (located with the text) and mentioning as similar to those illustrated are another 800 or so species for a total coverage of over 1,200 species. The start of each family section includes line drawings of some of the species showing important features. The text includes the usual description, bloom season, range, habitat and additionally includes information such as medical uses and lore and how the species was named. This is the official field guide of the Tennessee Native Plant Society.
---
---
Kingdom
Plantae
Plants
|
Division
Magnoliophyta
Angiosperms / Flowering Plants
|
Class
Magnoliopsida
Dicots / Two Seed Leaves
|
Subclass
Asteridae
Aster
|
|
Family
Asteraceae
Aster
|
Subfamily


|
Tribe


|
Genus
Tussilago

---
Welcome / Glossary / Books / Links / Feedback / Image use policy
---
www.2bnTheWild.com - Wildflowers of the Southeastern United States, Page updated on 3/29/2003 6:46:02 PM.