Wild Comfrey (Cynoglossum virginianum)
Plant Type: This is a herbaceous plant, it is a perennial which can reach 80cm in height (32inches). Covered with stiff hairs.
Leaves: The leaves are alternate. Leaves can reach 30cm in length (12inches). Each leaf is entire. Lower leaves elliptic on long petioles. Upper leaves progressively smaller and narrower and clasping.
Flowers: The flowers have 5 Regular Parts and are up to 0.8cm wide (0.33 inches). They are pale blue or lilac sometimes white. Blooms first appear in mid spring and continue into early summer.
Fruit: Each flower produces four small nuttlets covered with bristles that cling to fur and clothing.
Habitat: Open woods.
Range: Mainly from Kentucky, Tennessee and surrounding states. Found in scattered locations from North Dakota to Maine and south to Florida and Texas.
Color Photo
More Info
Classification
---

Ads on this page help pay for this site but if you see one that seems inappropriate here such as one that is counter to the pro environmental theme please let me know which Ad and I will block it.
Report a Bad Ad
---



Cynoglossum if from the Greek meaning 'dog's tongue' and refers to the large rough leaves.

Medical Uses: Nineteenth century herbalist suggested that Wild Comfrey (Cynoglossum virginianum) could be a substitute for Comfrey (Symphytum officinale) which is the Old World Comfrey long used for treating wounds and internally for digestive disorders, respiratory infections and as a mild sedative. Pyrrolixidine one of the active substances may cause liver damage it taken in large doses over time. Today some herbalist seem to completely confuse the Wild Comfrey of the U. S. with the Comfrey of Europe and Asia. I can find no scientific data to suggest that they may have the same properties. The more closely related Hound's Tongue (Cynoglossum officinale) was also an Old World plant that was used similarly but there is no evidence of its effectiveness.

Wild Comfrey (Cynoglossum virginianum) was used by the Cherokee. A decoction of the root was used to treat itch and a syrup for cloudy urine. It was also an ingredient in the Green Corn Medicine. A decoction of this or other plants with fruits that cling to fur were thought to improve memory if taken every four days which may be an aboriginal form of the doctrine of signatures .

Similar Species: Hound's Tongue (Cynoglossum officinale) is a European species introduced here and now weedy in this country. It is larger and more leafy with reddish purple flowers.
Comfrey (Symphytum officinale) is the old world Comfrey that has escaped cultivation in much of the U. S. It has bell like flowers only flaring slightly at the end and the leaves run down and merge gradually with the stem.

---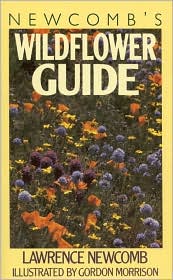 By: Newcomb, Lawrence and Illustrated by Morrison, Gordon. 1977, Little, Brown and Company, ISBN:0-316-60442-9

One of the best general guides to wildflowers of the North Eastern and North Central United States. Newcomb's key is an excellent, simple method for identifying plants. Newcomb has drawings for almost every plant mentioned that are excellent aids to identifying the species. Though only the more common plants are covered this is often the first book I pick up when trying to identify a wildflower.
---
Wildflo wers of Tennessee the Ohio Valley and the Southern Appalachians
By: Dennis Horn and Tavia Cathcart and Thomas E. Hemmerly and David Duhl. , ISBN:1551054280

This is perhaps the best of many field guides covering this region. Featuring 446 excellent color photographs (located with the text) and mentioning as similar to those illustrated are another 800 or so species for a total coverage of over 1,200 species. The start of each family section includes line drawings of some of the species showing important features. The text includes the usual description, bloom season, range, habitat and additionally includes information such as medical uses and lore and how the species was named. This is the official field guide of the Tennessee Native Plant Society.
---
---
Kingdom
Plantae
Plants
|
Division
Magnoliophyta
Angiosperms / Flowering Plants
|
Class
Magnoliopsida
Dicots / Two Seed Leaves
|
Subclass
Asteridae
Aster
|
|
Family
Boraginaceae
Borage
|
Subfamily


|
Tribe


|
Genus
Cynoglossum

---
Welcome / Glossary / Books / Links / Feedback / Image use policy
---
www.2bnTheWild.com - Wildflowers of the Southeastern United States, Page updated on 8/12/2001 9:02:44 AM.