Turk's-cap Lily (Lilium superbum)
Turk's-cap Lily is also known as Turkscap Lily and Turkscaplily, rarely as Swamp Lily.

Plant Type: This is a herbaceous plant, it is a perennial which can reach a height of 3 Meters (10 feet ) . The stem is stiff and straight.
Leaves: The leaves are whorled. Leaves can reach 18cm in length (7inches). Leaves can be as wide as 3 cm (1inches). There can be three to twenty leaves per whorl. The upper leaves or bracts may be alternate. Each leaf is lanceolate, entire.
Flowers: The flowers have 6 Regular Parts. They are orange and yellow with darker spots sometimes reddish and white, all with a green star in the center. Blooms first appear in mid summer and continue into early fall. There may be from one to as many as forty or more flowers tending to face down with recurved petals and sepalswhich are almost identical and can be up to 9cm (3.5") long.
Habitat: Moist areas, wet meadows or damp places on wooded slopes. Requires shaded ground.
Range: Mainly from the Appalachian mountains, found in very scattered locations from New Hamsure south to the Florida panhandle to west to Arkansas and Minnesota.
Color Photo
More Info
Classification
---

Ads on this page help pay for this site but if you see one that seems inappropriate here such as one that is counter to the pro environmental theme please let me know which Ad and I will block it.
Report a Bad Ad
---



Superbum means "superb" which is appropriate for this large plant with such showy and often numerous flowers. Unlike many flowers that bear a common name which includes "lily", this is a true lily.

This species has not required the creation of 'improved' cultivars to find a spot in flower gardens. It seems likely that more plants exist under cultivation than exist naturally in the wild.

Lore: We don't always know if a casual reference to "lily" is actually referring to a true lily since such taxonomic distinctions are relatively new and still unrecognized by all but those with some special interest in botany, still history is full of such references and images of lilies are frequently seen in art. Often used in floral arrangements, Rickett relates that lilies displayed in churches have their stamens removed based on the belief that once pollinated their aroma changes to a foul odor.

The true Lilies have sometimes been used as food (roots and buds). The Cherokee made flour from the tubers of Lilium canadense in times of famine and gave boiled tubers to children to "make child fleshy and fat".(Hamel/Chiltoskey) Other peoples around the northern hemisphere, where there are numerous species, have also used lilies as food though it was often considered to have some medicinal property as well. Please don't think of digging this rather rare species for food.

Similar Species: Many plants have flowers which resemble these. Many are not in the genus Lilium and thus not true Lilies. Lilium has alternate or whorled leaves. The flowers of this species are drooping as are a few others. Carolina lily (Lilium michauxii) has a drooping flower which is very similar with the distinction being that it does not have the green wedge at the base of each tepal, forming a star pattern.

---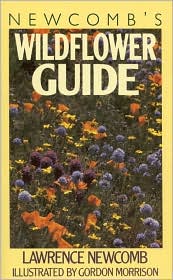 By: Newcomb, Lawrence and Illustrated by Morrison, Gordon. 1977, Little, Brown and Company, ISBN:0-316-60442-9

One of the best general guides to wildflowers of the North Eastern and North Central United States. Newcomb's key is an excellent, simple method for identifying plants. Newcomb has drawings for almost every plant mentioned that are excellent aids to identifying the species. Though only the more common plants are covered this is often the first book I pick up when trying to identify a wildflower.
---
Wildflo wers of Tennessee the Ohio Valley and the Southern Appalachians
By: Dennis Horn and Tavia Cathcart and Thomas E. Hemmerly and David Duhl. , ISBN:1551054280

This is perhaps the best of many field guides covering this region. Featuring 446 excellent color photographs (located with the text) and mentioning as similar to those illustrated are another 800 or so species for a total coverage of over 1,200 species. The start of each family section includes line drawings of some of the species showing important features. The text includes the usual description, bloom season, range, habitat and additionally includes information such as medical uses and lore and how the species was named. This is the official field guide of the Tennessee Native Plant Society.
---
---
Kingdom
Plantae
Plants
|
Division
Magnoliophyta
Angiosperms / Flowering Plants
|
Class
Liliopsida
Monocots / One Seed Leaf
|
Subclass
Liliidae
Lily
|
Order
Liliales
Lily
|
Family
Liliaceae
Lily
|
Subfamily


|
Tribe


|
Genus
Lilium

---
Welcome / Glossary / Books / Links / Feedback / Image use policy
---
www.2bnTheWild.com - Wildflowers of the Southeastern United States, Page updated on 12/22/2001 8:14:39 AM.