Vasevine (Clematis viorna)
Vasevine is also known as Bluebill and Leatherflower.

Plant Type: This is a vine, it is a perennial. Generally hairy at least at the nodes.
Leaves: The leaf arrangement is opposite. Lower leaves divided into two to four pairs sometimes with a terminal tendril. Leaflets sometimes trifoliolate, ovate, usually not prominently veined, entire or with two or three lobes or clefts. Hairy on the underside (visible with a lens).
Flowers: The flowers have 4 Regular Parts and are up to 3cm long (1.2 inches). They are purple or pinkish. Blooms first appear in late spring and continue into late summer. No petals, sepals forming an urn shape with acute, recurved tips.
Fruit: A round cluster of achenes with long, plumose, curved tails.
Habitat: Moist woods, thickets and borders.
Range: Centered around Virginia and the Carolinas the range extends from Georgia to Pennsylvania and west to Missouri and Arkansas.
Color Photo
More Info
Classification
---

Ads on this page help pay for this site but if you see one that seems inappropriate here such as one that is counter to the pro environmental theme please let me know which Ad and I will block it.
Report a Bad Ad
---



I originally, incorrectly, identified this as Clematis pitcheri. Mike Dennis, who worked on this group for his dissertation, has now looked at a specimen and correctly identified it.

The following is the text I posted while waiting to find out the true identity. I leave it as a reminder of how difficult it can be to correctly identify some species.:
Soon after posting this species I received an e-mail from Dr. B. Eugene Wofford informing me that Clematis pitcheri had not be seen in Tennessee since 1942! I had known when Darel Hess first pointed it out to me as 'Leatherflower' that it was unusual at least in the Cedar Forest area as I had been searching for plants in the area for years and had never before seen it. Once I identified it as C. pitcheri, based on the flower and leaves as no fruit had formed at that time, I discovered that it was recorded from only one county in Tennessee. This did not particularly surprise me as many counties are not well surveyed. Learning that it was thought extirpated from Tennessee was a surprise and of course called into question my identification. By this time the fruit had matured and the beaks of the achenes were much more hairy than expected. Soon the specimen will be checked by someone who knows this group well and we will learn for sure if this is a real discovery or just another example of my own ignorance.

Lore: The name 'Clematis' is from the Greek word 'clema' which means 'tendril'.

Similar Species: Clematis vines with urn-shaped flowers include;

Clematis pitcheri has somewhat similar flowers but the leaflets are prominently veined and the tails of the seeds are not plumose all the way to the tip.

Clematis versicolor may have very similar flowers but the leaves are glabrous and glaucous.

Clematis glaucophylla has red flowers and the leaves are glabrous and glaucous.

Clematis crispa has flowers with a narrow neck and wide flaring sepals with very crispate edges. The leaves are glabrous.

---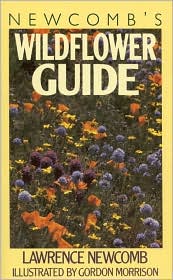 By: Newcomb, Lawrence and Illustrated by Morrison, Gordon. 1977, Little, Brown and Company, ISBN:0-316-60442-9

One of the best general guides to wildflowers of the North Eastern and North Central United States. Newcomb's key is an excellent, simple method for identifying plants. Newcomb has drawings for almost every plant mentioned that are excellent aids to identifying the species. Though only the more common plants are covered this is often the first book I pick up when trying to identify a wildflower.
---
Wildflo wers of Tennessee the Ohio Valley and the Southern Appalachians
By: Dennis Horn and Tavia Cathcart and Thomas E. Hemmerly and David Duhl. , ISBN:1551054280

This is perhaps the best of many field guides covering this region. Featuring 446 excellent color photographs (located with the text) and mentioning as similar to those illustrated are another 800 or so species for a total coverage of over 1,200 species. The start of each family section includes line drawings of some of the species showing important features. The text includes the usual description, bloom season, range, habitat and additionally includes information such as medical uses and lore and how the species was named. This is the official field guide of the Tennessee Native Plant Society.
---
---
Kingdom
Plantae
Plants
|
Division
Magnoliophyta
Angiosperms / Flowering Plants
|
Class
Magnoliopsida
Dicots / Two Seed Leaves
|
Subclass
Magnoliidae
Magnolia
|
|
Family
Ranunculaceae
Buttercups
|
Subfamily


|
Tribe


|
Genus
Clematis

---
Welcome / Glossary / Books / Links / Feedback / Image use policy
---
www.2bnTheWild.com - Wildflowers of the Southeastern United States, Page updated on 10/25/2002 8:10:59 AM.