Bugbane (Cimicifuga )
Bugbane is also known as American Bugbane (C. americana), Black Snakeroot and Black Cohosh (C. racemosa).

Plant Type: This is a herbaceous plant, it is a perennial which can reach a height of 2.55 Meters (8 feet ) .
Leaves: The leaves are alternate. Each leaf is pinnately divided into two or three compound divisions. The leaflets are sharply toothed and sometimes lobed.
Flowers: The flower parts are not discernable with the naked eye and are up to 1.25cm wide (0.5 inches). They are white. The flowers of C. racemosa have a unpleasant smell and have only one pistil with a large stigma. C. americana does not have the odor and has at least three and up to eight pistils with no apparent stigmas.
Fruit: C. racemosa forms a follicle from the raceme while C. americana has a single fruit for each flower.
Habitat: Rich, open woods, edges of dense woods or where trees have fallen letting in light.
Range: From North Carolina to S. Georgia, West to the Arkansas and S. Missouri for C. racemosa. C. americana is limited to the S. Appalachian Mts.
Color Photo
More Info
Classification
---

Ads on this page help pay for this site but if you see one that seems inappropriate here such as one that is counter to the pro environmental theme please let me know which Ad and I will block it.
Report a Bad Ad
---

Daniel Reed 1- C. racemosa has a single pistil with a large stigma. 2- C. americana has 3 to 8 pistils with no apparent stigma.


Both the "Black" and the "Cohosh", which means rough, refer to the root.

Lore: If the foul odor (C. racemosa only) and the name "Bugbane" doesn't give you a clue that this plant has been used as a insect repellent, consider the fact that Cimicifuga is Latin for "bug repellent".

Medical Uses: The roots have been used by Native Americans for a great many things including rheumatism, lumbago and nervous problems. It may have been most important to them for treating various female problems including menstrual cramps and to ease childbirth. Research has shown that it is a sedative, antispasmodic, anti-inflammatory and effects hormonal activity in women. Its use in by women to treat problems related to menopause may be increasing.
Warning: Large doses may cause nausea and dizziness and it is to be avoided during pregnancy as it may cause miscarriage.

Similar Species: C. racemosa flowers from May to July while C. americana flowers from July to September. Appalachian bugbane (C. rubifolia) is similar to C. racemosa. It generally has fewer and larger leaflets having cordate bases and the terminal one not having three parts.

---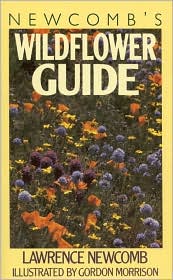 By: Newcomb, Lawrence and Illustrated by Morrison, Gordon. 1977, Little, Brown and Company, ISBN:0-316-60442-9

One of the best general guides to wildflowers of the North Eastern and North Central United States. Newcomb's key is an excellent, simple method for identifying plants. Newcomb has drawings for almost every plant mentioned that are excellent aids to identifying the species. Though only the more common plants are covered this is often the first book I pick up when trying to identify a wildflower.
---
Wildflo wers of Tennessee the Ohio Valley and the Southern Appalachians
By: Dennis Horn and Tavia Cathcart and Thomas E. Hemmerly and David Duhl. , ISBN:1551054280

This is perhaps the best of many field guides covering this region. Featuring 446 excellent color photographs (located with the text) and mentioning as similar to those illustrated are another 800 or so species for a total coverage of over 1,200 species. The start of each family section includes line drawings of some of the species showing important features. The text includes the usual description, bloom season, range, habitat and additionally includes information such as medical uses and lore and how the species was named. This is the official field guide of the Tennessee Native Plant Society.
---
---
Kingdom
Plantae
Plants
|
Division
Magnoliophyta
Angiosperms / Flowering Plants
|
Class
Magnoliopsida
Dicots / Two Seed Leaves
|
Subclass

Magnolia
|
Order
Ranunculales
Buttercups
|
Family
Ranunculaceae
Buttercups
|
Subfamily


|
Tribe


|
Genus
Cimicifuga
Bugbane
---
Welcome / Glossary / Books / Links / Feedback / Image use policy
---
www.2bnTheWild.com - Wildflowers of the Southeastern United States, Page updated on 7/16/2001 8:12:29 AM.