Sassafras (Sassafras albidum)
Sassafras is also known as Sassafras albidum.

Plant Type: This is a tree which can reach a height of 30 Meters (98 feet ) .
Leaves: The leaves are alternate. Leaves can reach 16cm in length (6inches). Each leaf is toothed or lobed or sometimes entire and often lobed on only one side looking rather like a mitten.
Flowers: The flowers have 6 Regular Parts. They are yellow. Blooms first appear in early spring and continue into mid spring. The flowers ar in tight clusters at the end of of last years new growth. About 1cm (0.4 inches) wide when first open.
Fruit: A dark blue to almost black drupe about 1cm (0.4 inches) long.
Bark: Gray becoming deeply furrowed.
Habitat: Overgrown fields, fence rows, disturbed woods and borders
Range: All of the eastern U. S.
Color Photo
More Info
Classification
---

Ads on this page help pay for this site but if you see one that seems inappropriate here such as one that is counter to the pro environmental theme please let me know which Ad and I will block it.
Report a Bad Ad
---



Often with a small, leaning, bent or twisted trunk this tree is usually found growing in clusters along borders. Sometimes when the roadside embankments of rural roads are disturbed the aroma of the roots is released.

Lore: This common tree is know for the tea brewed from the root bark. Once considered so healthful that it was of huge economic importance. In colonial America it was a major export at one time rivaled only by tobacco. Root Beer was once flavored from oil of the root bark but due to health concerns about the safrole it contained being a carcinogen the FDA to banned it in the early 1960s and Root Beer is now flavored artificially.

Medical Uses: Native Americans used the root bark tea for a variety of ailments both externally and internally. A virtual panacea. Often used as a spring tonic and blood purifier it was also use to treat everything from colds to kidney problems to skin conditions. It has been shown to be effective for intestinal gas and as a diuretic. Though it is now banned a can of naturally flavored Root Beer was less carcinogenic than the ethanol in a can or regular beer.(Foster & Duke)

---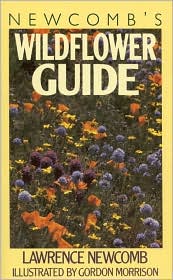 By: Newcomb, Lawrence and Illustrated by Morrison, Gordon. 1977, Little, Brown and Company, ISBN:0-316-60442-9

One of the best general guides to wildflowers of the North Eastern and North Central United States. Newcomb's key is an excellent, simple method for identifying plants. Newcomb has drawings for almost every plant mentioned that are excellent aids to identifying the species. Though only the more common plants are covered this is often the first book I pick up when trying to identify a wildflower.
---
Wildflo wers of Tennessee the Ohio Valley and the Southern Appalachians
By: Dennis Horn and Tavia Cathcart and Thomas E. Hemmerly and David Duhl. , ISBN:1551054280

This is perhaps the best of many field guides covering this region. Featuring 446 excellent color photographs (located with the text) and mentioning as similar to those illustrated are another 800 or so species for a total coverage of over 1,200 species. The start of each family section includes line drawings of some of the species showing important features. The text includes the usual description, bloom season, range, habitat and additionally includes information such as medical uses and lore and how the species was named. This is the official field guide of the Tennessee Native Plant Society.
---
---
Kingdom
Plantae
Plants
|
Division
Magnoliophyta
Angiosperms / Flowering Plants
|
Class
Magnoliopsida
Dicots / Two Seed Leaves
|
Subclass
Magnoliidae

|
|
Family
Lauraceae
Laurel
|
Subfamily


|
Tribe


|
Genus
Sassafras
Sassafras
---
Welcome / Glossary / Books / Links / Feedback / Image use policy
---
www.2bnTheWild.com - Wildflowers of the Southeastern United States, Page updated on 4/15/2007 7:52:18 PM.