Bonesets or Thoroughworts in general (Eupatorium )
Plant Type: These are a herbaceous plants. Usually a tall erect plant.
Leaves: The leaf arrangement is opposite. Whorled in the case of the Joe-Pye Weeds, see:Hollow-stemed Joe-Pye Weed, Eupatorium fistulosum. Each leaf is toothed. The leaves range from stemmed to clasping the plant stem.
Flowers: The flower parts are not discernable with the naked eye . They are white or whitish sometimes pink or blue. Blooms first appear in early summer and continue into mid fall. Usually a flat topped cluster of small flowers.
Habitat: Various
Range: Throughout.
Color Photo
More Info
Classification
---

Ads on this page help pay for this site but if you see one that seems inappropriate here such as one that is counter to the pro environmental theme please let me know which Ad and I will block it.
Report a Bad Ad
---

Daniel Reed


A tall erect plant with a flat toped cluster of small composite flowers and opposite or whorled, toothed leaves is likely to be one of the many members of this genus. The Boneset Tribe (a subgroup of the Composite Family contains several genre other than Euparorium all distinguished from other Composites by the shape of their stigmas which are thicker toward the ends.

Medical Uses: Various members of this group have long been used to treat fevers caused by many illnesses from simple colds to typhus. The name may come from its use to treat what was known as breakbone fever. In addition to fevers leaf tea is often used as a diuretic and the leaves of E. perfoliatum were once considered useful in mending broken bones though this may stem from the doctrine of signatures . Once listed in both the U. S. Pharmacopeia and the National Formulary it has been removed from both and there is no scientific evidence that it is effective as a treatment. While many members of this family, Asteraceae, may be ingested with reasonable safety White Snakeroot, formerly considered Eupatorium rugosum and now Ageratina altissima var. Altissima, is poisonous!

Similar Species: There are several Bonesets, below are links to the ones currently described on this site.

Late-flowering Boneset, Eupatorium serotium
Hyssopleaf Thoroughwort, Eupatorium hyssopifolium
Pink Thoroughwort (Fleischmannia incarnata)

The Joe Pye Weeds are dealt with separately, having whorled leaves and usually pink flowers. See: Hollow-stemed Joe-Pye Weed, Eupatorium fistulosum.

---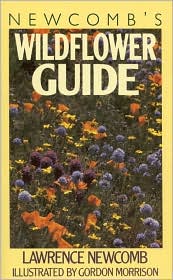 By: Newcomb, Lawrence and Illustrated by Morrison, Gordon. 1977, Little, Brown and Company, ISBN:0-316-60442-9

One of the best general guides to wildflowers of the North Eastern and North Central United States. Newcomb's key is an excellent, simple method for identifying plants. Newcomb has drawings for almost every plant mentioned that are excellent aids to identifying the species. Though only the more common plants are covered this is often the first book I pick up when trying to identify a wildflower.
---
Wildflo wers of Tennessee the Ohio Valley and the Southern Appalachians
By: Dennis Horn and Tavia Cathcart and Thomas E. Hemmerly and David Duhl. , ISBN:1551054280

This is perhaps the best of many field guides covering this region. Featuring 446 excellent color photographs (located with the text) and mentioning as similar to those illustrated are another 800 or so species for a total coverage of over 1,200 species. The start of each family section includes line drawings of some of the species showing important features. The text includes the usual description, bloom season, range, habitat and additionally includes information such as medical uses and lore and how the species was named. This is the official field guide of the Tennessee Native Plant Society.
---
---
Kingdom
Plantae
Plants
|
Division
Magnoliophyta
Angiosperms / Flowering Plants
|
Class
Magnoliopsida
Dicots / Two Seed Leaves
|
Subclass
Asteridae
Aster
|
|
Family
Asteraceae
Composite
|
Subfamily


|
Tribe

Boneset
|
Genus
Eupatorium
Thoroughwort
---
Welcome / Glossary / Books / Links / Feedback / Image use policy
---
www.2bnTheWild.com - Wildflowers of the Southeastern United States, Page updated on 10/15/2008 5:10:02 PM.