Rabbit Tobbacco (Pseudognaphalium Obtusifolium)
Rabbittobbacco is also known as Sweet Everlasting, Sweet White Balsam, Fragrant Life Everlasting, Fuzzy Gussy and many other names. Also known by the scientific name Gnaphalium Obtusifolium.

Plant Type: This is a herbaceous plant, it is a annual which can reach 80cm in height (30inches). It is sometimes a biennial. The plant is covered with a cottony down.
Leaves: The leaves are alternate. Each leaf is entire, narrow and, like the rest of the plant, wooly
Flowers: The flower parts are not discernable with the naked eye and are up to 1cm long (0.4 inches) and are up to 0.5cm wide (0.2 inches). They are whitish to light brown. Blooms first appear in mid summer and continue into mid fall.
Habitat: Dry open areas.
Range: Most of eastern North America.
Color Photo
More Info
Classification
---

Ads on this page help pay for this site but if you see one that seems inappropriate here such as one that is counter to the pro environmental theme please let me know which Ad and I will block it.
Report a Bad Ad
---

Daniel Reed


Look for Everlastings in abandoned fields or seasonally mowed areas especially slopes for it is not fond of low or damp areas. The plant is slightly aromatic and has a distinctive color and form. Even in the dead of winter it is easy to spot. Harvested while still fresh the flowers will remain intact for a long time.

Lore: There are many accounts of Everlasting being smoked in place of tobacco by Native Americans and settlers alike and the smoke held a spiritual or mystic power for many Indians. The Cheyenne dropped the leaves on hot coals and used the smoke to purify gifts to the spirits. Cheyenne warriors chewed the leaves and rubbed there body's with it to strengthen and protect them in battle. The Menomini used the smoke after a death to keep the ghost of a the dead from bringing nightmares and bad luck to the surviving family members. The Potawatomi and the Chippewa use the smoke to drive away sprits (witches) from their dwellings. The Cherokees used it in sweat baths. It was also thought by many tribes that the smoke had a restorative power that could revive the unconscious or paralyzed.(Erichsen-Brown) The fresh juice has some reputation as an aphrodisiac(Newcomb) though how it is used or how much I, sadly, do not know.

Medical Uses: Everlasting is certainly astringent and is commonly thought to be sedative, diuretic and a very mild pain reliever. Both the smoke and a leaf tea have been use to treat various throat and bronchial conditions from colds to asthma and especially for coughs. It is also used for diarrhea. Sores on the skin and in the mouth are poulticed with it as are bruises and it has been highly recommended for burns.

Similar Species: Clammy Everlasting (P. macounii) is very similar. The leaves are wider at the base and clasp the stem whereas the leaves or Sweet Everlasting taper slightly at the base.
Pearly Everlasting (Anaphalis margaritacea) (note that it is a different genus) also is very similar. It has wider flower heads that are almost pure white. It is a perennial. This plant is often used in dried flower arrangements. Male and female flowers are on different plants. It's range extends only as far south as the Virginias.
Less similar are members of the Antennaria genus Pussytoes .



---
---

Ads on this page help pay for this site but if you see one that seems inappropriate here such as one that is counter to the pro environmental theme please let me know which Ad and I will block it. Report a Bad Ad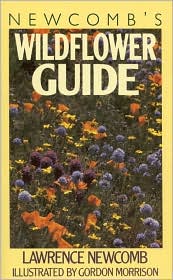 By: Newcomb, Lawrence and Illustrated by Morrison, Gordon. 1977, Little, Brown and Company, ISBN:0-316-60442-9

One of the best general guides to wildflowers of the North Eastern and North Central United States. Newcomb's key is an excellent, simple method for identifying plants. Newcomb has drawings for almost every plant mentioned that are excellent aids to identifying the species. Though only the more common plants are covered this is often the first book I pick up when trying to identify a wildflower.
---
Wildflo wers of Tennessee the Ohio Valley and the Southern Appalachians
By: Dennis Horn and Tavia Cathcart and Thomas E. Hemmerly and David Duhl. , ISBN:1551054280

This is perhaps the best of many field guides covering this region. Featuring 446 excellent color photographs (located with the text) and mentioning as similar to those illustrated are another 800 or so species for a total coverage of over 1,200 species. The start of each family section includes line drawings of some of the species showing important features. The text includes the usual description, bloom season, range, habitat and additionally includes information such as medical uses and lore and how the species was named. This is the official field guide of the Tennessee Native Plant Society.
---
---
Kingdom
Plantae
Plants
|
Division
Magnoliophyta
Angiosperms / Flowering Plants
|
Class
Magnoliopsida
Dicots / Two Seed Leaves
|
Subclass
Asteridae
Aster
|
|
Family
Asteraceae
Composite
|
Subfamily


|
Tribe

Everlasting
|
Genus
Gnaphalium
Cudweed
---
Welcome / Glossary / Books / Links / Feedback / Image use policy
---
www.2bnTheWild.com - Wildflowers of the Southeastern United States, Page updated on 8/15/2009 9:49:14 AM. (Viewed date from local machine.)
&copy 1999-2009 Daniel W. Reed

File date-15-Aug-09