Closed Gentian (Gentiana clausa)
Closed Gentian is also known as Bottle Gentian which is the official vernacular name..

Plant Type: This is a herbaceous plant, it is a perennial which can reach 61cm in height (24inches).
Leaves: The leaf arrangement is opposite. Leaves can reach 10cm in length (4inches). Each leaf is lanceolate entire and stemless.
Flowers: The flowers have 5 Regular Parts and are up to 3.5cm long (1.5 inches). They are blue sometimes violet. Blooms first appear in mid summer and continue into mid fall. The corolla appears completely closed but can be opened at the top.
Habitat: Moist fields or open woods.
Range: From Quebec to as far south as Tennessee and North Carolina.
Color Photo
More Info
Classification
---

Ads on this page help pay for this site but if you see one that seems inappropriate here such as one that is counter to the pro environmental theme please let me know which Ad and I will block it.
Report a Bad Ad
---

Daniel Reed


The Gentians are attractive flowers and one species or another can be found in almost any part of our area. Since they bloom well into the fall they are often one of the few plants in bloom in the mountains when the leaves are turning . Some of the species are difficult to determine.

Lore: The genus is named for Gentius a King of ancient Illyria from 180 to 167 B.C. who was supposed to have discovered the medical properties of the genus.(Grieve) There is a papyrus from Egypt that mentions this plants medical use which was written a thousand years earlier. The name of one species, Sampson's Snakeroot implies it may be useful for treatment of snakebite and is thought by some to have a curative effect on other bites such as dog as well. In Appalachia the root is sometimes carried as a charm.(Dobelis)

Medical Uses: The bitter root has long been used as a tonic and is known to be an appetite stimulant. The Cherokee used it as a tonic, cathartic and laxative as well as to treat a weak stomach and, oddly, hysterical affections.(Hamel/Chiltoskey)

Similar Species: Fringed Gentian (Gentianella. andrewsii) is also known as Closed Gentian. It has a slight fringed edge to the top of the corolla. Showy Gentian (Gentiana decora) is best distinguished from G. clausa by its hairy calyx. Its range extends south to Florida. Harvestbells or Soapwort Gentian (Gentiana saponaria) has paler flowers and the leaves have a broader tip. It is found along shores and other wet sandy areas. Agueweed or Stiff Gentian (Gentianella quinquefolia ssp. Quinquefolia formerly considered Gentiana quinquefolia) has violet or light green flowers with a bristle at the tip of each lobe. The stem is angled and the upper leaves have somewhat clasping bases. Striped Gentian or Sampson's Snakeroot (Gentiana villosa) is misnamed as villosa means "hairy" in Latin and the plant is glabrous. It has a greenish flower sometimes with purplish stripes and oblanceolate leaves.
Other Gentians in our area have more open or funnel shaped flowers.

---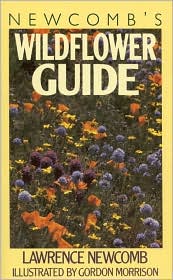 By: Newcomb, Lawrence and Illustrated by Morrison, Gordon. 1977, Little, Brown and Company, ISBN:0-316-60442-9

One of the best general guides to wildflowers of the North Eastern and North Central United States. Newcomb's key is an excellent, simple method for identifying plants. Newcomb has drawings for almost every plant mentioned that are excellent aids to identifying the species. Though only the more common plants are covered this is often the first book I pick up when trying to identify a wildflower.
---
Wildflo wers of Tennessee the Ohio Valley and the Southern Appalachians
By: Dennis Horn and Tavia Cathcart and Thomas E. Hemmerly and David Duhl. , ISBN:1551054280

This is perhaps the best of many field guides covering this region. Featuring 446 excellent color photographs (located with the text) and mentioning as similar to those illustrated are another 800 or so species for a total coverage of over 1,200 species. The start of each family section includes line drawings of some of the species showing important features. The text includes the usual description, bloom season, range, habitat and additionally includes information such as medical uses and lore and how the species was named. This is the official field guide of the Tennessee Native Plant Society.
---
---
Kingdom
Plantae
Plants
|
Division
Magnoliophyta
Angiosperms / Flowering Plants
|
Class
Magnoliopsida
Dicots / Two Seed Leaves
|
Subclass
Asteridae
Aster
|
|
Family
Gentianaceae
Gentian
|
Subfamily


|
Tribe


|
Genus
Gentiana
Gentian
---
Welcome / Glossary / Books / Links / Feedback / Image use policy
---
www.2bnTheWild.com - Wildflowers of the Southeastern United States, Page updated on 12/22/2001 8:14:53 AM.